Our brand new album 'The Future's Calling is released in the UK on Friday 24th June 2016.
CD VERSION - 300 COPIES ONLY
Published by Unlatched Records
(Cat. No. UL002)
Available Here £9.99 plus P&P
Also available on Amazon and ebay.

****************

12" VINYL LP VERSION - 333 COPIES ONLY
Published by Drumming Monkey Records
(Cat. No. DRUM 25-2)
Available from the following:
www.amazon.co.uk - United Kingdom
www.drummingmonkey-shop.de - Germany
www.bol.com - Netherlands
www.bestbuy.com - USA
www.bengans.se - Sweden
www.supershop.sk - Slovenia
www.magyarmenedek.com - Hungary
****************
This video gives a quick preview of all 14 tracks!
TRACK LISTING
01. The Future's Calling 2016 3.41
02. We Had The Best Time 3.12
03. Smiling Inside 3.11
04. Summer Nights (Are Never Like Movies) 4.13
05. Make Me Forget (Where We Are) 3.36
06. Filled My World 2.49
07. Nearly Home (Turning The Pages) 3.31
08. Racing Through Time 3.32
09. It's Happening Today 3.05
10. New Songs (Like The Old Songs) 3.04
11. There Goes Deborah 3.16
12. Girls Have Fun 2.38
13. So Delightful 3.01
14. Not The Real Thing 3.01
****************
OTHER NEWS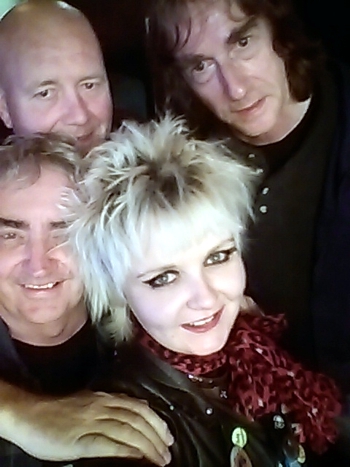 The band have started recording with Danie Cox of The Featherz and the collaboration has proven to be very successful. More later....
Uber Rock Interview
Recent interview with Pete Stride and Nigel Moore by Dom Daley CLICK HERE.
****************
Uber Rock Album Review
"All in all a really enjoyable album and you have to be quick if you want to go old school and pick it up on vinyl because it's limited - very limited! Another fine example of bands from the '70s still having the chops whether it be the Subs, The Boys, Buzzcocks, Chelsea or Lurkers GLM, they know how to make a great album in 2016 - Fact!"
****************
Record Collector Album Review
As The Lurkers GLM, the trio are rightly reclaiming their name, and the new album The Future's Calling, will do much to back up that claim, packed as it is with powerful, punchy, pop-punk gems.
****************
What Records
The group is still producing the effortlessly catchy and powerful songs on which their reputation was built.
****************