NEW 5 CD BOX SET....
NEW 7" VINYL EP....
The Lurkers have recorded a new 3 track EP with Danie Cox of The Featherz guesting on vocals for the title track 'High Velocity'. It will be released on 7" vinyl on 24th November on the Human Punk record label and will be distributed by Damaged Goods.
Tracklisting:
A1. High Velocity
B1. White Noise and Feedback
B2. One Butterfly
This is a LIMITED EDITION of 500 pressed on Pink Vinyl, priced at £5.99 plus shipping from the Rough Trade website or shop. Click button below to buy on-line.

LATEST ALBUM....
Our latest Lurkers GLM album 'The Future's Calling' released last year is still available on CD and vinyl, but hurry as both are Limited Editions and running low!
CD VERSION - 300 COPIES ONLY
Published by Unlatched Records
(Cat. No. UL002)
Available Here £9.99 plus P&P
Also available on Amazon and ebay.
****************
12" VINYL VERSION - 333 COPIES ONLY
Drumming Monkey Records
(Cat No. Drum 25-2)
Available Here €17.00 plus P&P

****************
TRACK LISTING
01. The Future's Calling 3.41
02. We Had The Best Time 3.12
03. Smiling Inside 3.11
04. Summer Nights (Are Never Like Movies) 4.13
05. Make Me Forget (Where We Are) 3.36
06. Filled My World 2.49
07. Nearly Home (Turning The Pages) 3.31
08. Racing Through Time 3.32
09. It's Happening Today 3.05
10. New Songs (Like The Old Songs) 3.04
11. There Goes Deborah 3.16
12. Girls Have Fun 2.38
13. So Delightful 3.01
14. Not The Real Thing 3.01
****************
Record Collector Album Review
As The Lurkers GLM, the trio are rightly reclaiming their name, and the new album The Future's Calling, will do much to back up that claim, packed as it is with powerful, punchy, pop-punk gems.
Louder Than War - EP Preview
The title track is a barnstormer. It has the Lurkers vibe straight away, high-energy, straight-forward punk rock and roll – Hi, Hi, Hi, Hi High! – Dani has a likeable Honey Bane meets Beki Bondage singing style and is perfect on the song , echo-ing as it does the I-I-I-I-I from 'I Don't Need To Tell Her' and the guitar zig-zag from 'Countdown'. It's a nice piece of ramalama ding-dong punk pop – just like they used to make.
The B-sides are 'White Noise and Feedback' -with a lyric about the internet echo-chamber and inane banter and the excellent, slower piece of melody and melancholy 'One Butterfly' – a song which after a few listens sounds like a slow-burning classic which updates the 'Lonely Men' theme from the bands earlier work.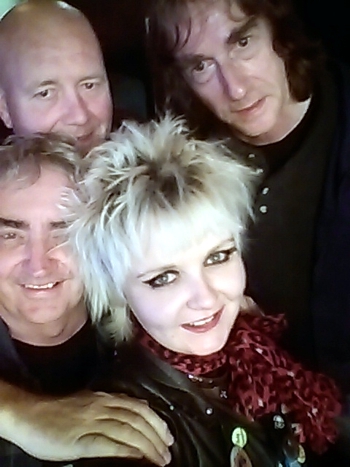 RECENT INTERVIEWS
BBC Radio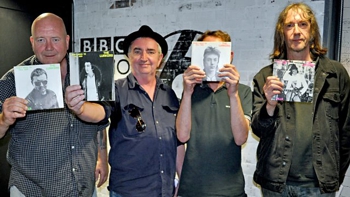 40 years after making an appearance on BBC's 'Top Of The Pops' three of the original Lurkers and Martin Mills, the founder of Beggars Banquet Records, talk to Steve Lamacq on BBC Radio.


(Will Open A New Browser Window)
****************
Uber Rock
Recent interview with Pete Stride and Nigel Moore by Dom Daley CLICK HERE.