This month marks the 40th Anniversary of Beggars Banquet Records and the release of The Lurkers first 7" single 'Shadow' / 'Love Story'. To celebrate the occasion Beggars have released a 5 CD box set which is now available direct from The Arkive.
5 CD BOX SET
Published by Beggars Banquet Records
(Cat. No. BBQCD 2114)
Available Here £16.00 plus P&P

DISC ONE - Fulham Fallout

01. Ain't Got A Clue
02. I Don't Need To Tell Her
03. Total War
04. Hey You
05. Shadow
06. Then I Kicked Her
07. Go Go Go
08. Jenny
09. Time of Year
10. Self Destruct
11. It's Quiet Here
12. Gerald
13. I'm on Heat
14. Be My Prisoner

DISC TWO - God's Lonely Men

01. She Knows
02. God's Lonely Men
03. Out In The Dark
04. Cyanide
05. Whatever Happened to Mary
06. Take Me Back to Babylon
07. Room 309
08. I'll Be With You
09. Non-Contender
10. Seven O'Clock Someday
11. Sleep On Diamonds
12. Bad Times

DISC THREE - Singles & Demos

01. Shadow (single version)
02. Love Story
03. Freak Show
04. Mass Media Believer
05. Be My Prisoner )
06. Ain't Got A Clue
07. Ooh! Ooh! I Love You
08. We Are The Chaos Bros. (Fulham Fallout Firty Free)
09. I Don't Need To Tell Her
10. Pills
11. Just Thirteen
12. Countdown
13. Out In The Dark
14. Cyanide
15. Suzie Is a Floozie
16. Cyanide (Pub version)
17. New Guitar In Town
18. Little Ole Wine Drinker Me
19. Total War (Demo)
20. Then I Kissed Her (Demo)
21. I Love The Dark (Demo)
22. Freak Show (LP Demo)
23. Cold Old Night (Demo)
24. Pick Me Up (Demo)
25. Mary's Coming Home (Demo)
26. New Guitar In Town (Demo)
27. Little Ole Wine Drinker Me (Demo)


DISC FOUR - BBC Sessions

01. Freak Show
02. Total War
03. I'm On Heat
04. Then I Kissed Her
05. Be My Prisoner
06. Ain't Got A Clue
07. Pills
08. I Don't Need To Tell Her
09. Jenny
10. (Here Comes The) Bad Times
11. God's Lonely Men
12. In Room 309
13. Countdown
14. Whatever Happened To Mary
15. Take Me Back To Babylon
16. Out In The Dark
17. See The World
18. You'd Better Move On
19. Cold Old Night
20. School Girls
21. Pick Me Up


DISC FIVE Pete Stride and John Plain - New Guitars In Town

01. Laugh At Me
02. School Girls
03. Cold Old Night
04. He'll Have To Go
05. Just Like A Clown
06. Half The Time
07. New Guitar In Town
08. Cure For Love
09. Restless Kind
10. You Better Move On
11. Pick Me Up
12. Jimmy Brown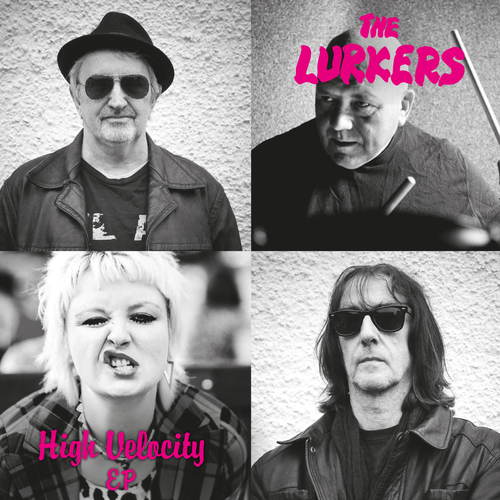 The Lurkers have recorded a new 3 track EP with Danie Cox of The Featherz guesting on vocals for the title track 'High Velocity'. It will be released on 7" vinyl on 24th November on the Human Punk record label and will be distributed by Damaged Goods.
Tracklisting:
A1. High Velocity
B1. White Noise and Feedback
B2. One Butterfly
This is a LIMITED EDITION of 500 pressed on Pink Vinyl, priced at £4.99 plus shipping (£1.25 UK). You can pre-order from the Damaged Goods website.

LATEST ALBUM....
Our latest Lurkers GLM album 'The Future's Calling' released last year is still available on CD and vinyl, but hurry as both are Limited Editions and running low!
CD VERSION - 300 COPIES ONLY
Published by Unlatched Records
(Cat. No. UL002)
Available Here £9.99 plus P&P
Also available on Amazon and ebay.
****************
12" VINYL VERSION - 333 COPIES ONLY
Drumming Monkey Records
(Cat No. Drum 25-2)
Available Here €17.00 plus P&P

****************
TRACK LISTING
01. The Future's Calling 3.41
02. We Had The Best Time 3.12
03. Smiling Inside 3.11
04. Summer Nights (Are Never Like Movies) 4.13
05. Make Me Forget (Where We Are) 3.36
06. Filled My World 2.49
07. Nearly Home (Turning The Pages) 3.31
08. Racing Through Time 3.32
09. It's Happening Today 3.05
10. New Songs (Like The Old Songs) 3.04
11. There Goes Deborah 3.16
12. Girls Have Fun 2.38
13. So Delightful 3.01
14. Not The Real Thing 3.01
****************
Record Collector Album Review
As The Lurkers GLM, the trio are rightly reclaiming their name, and the new album The Future's Calling, will do much to back up that claim, packed as it is with powerful, punchy, pop-punk gems.
Louder Than War - EP Preview
The title track is a barnstormer. It has the Lurkers vibe straight away, high-energy, straight-forward punk rock and roll – Hi, Hi, Hi, Hi High! – Dani has a likeable Honey Bane meets Beki Bondage singing style and is perfect on the song , echo-ing as it does the I-I-I-I-I from 'I Don't Need To Tell Her' and the guitar zig-zag from 'Countdown'. It's a nice piece of ramalama ding-dong punk pop – just like they used to make.
The B-sides are 'White Noise and Feedback' -with a lyric about the internet echo-chamber and inane banter and the excellent, slower piece of melody and melancholy 'One Butterfly' – a song which after a few listens sounds like a slow-burning classic which updates the 'Lonely Men' theme from the bands earlier work.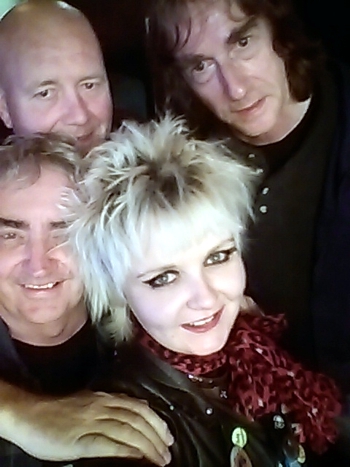 RECENT INTERVIEWS
BBC Radio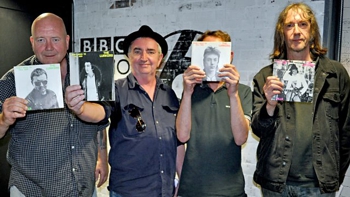 40 years after making an appearance on BBC's 'Top Of The Pops' three of the original Lurkers and Martin Mills, the founder of Beggars Banquet Records, talk to Steve Lamacq on BBC Radio.


(Will Open A New Browser Window)
****************
Uber Rock
Recent interview with Pete Stride and Nigel Moore by Dom Daley CLICK HERE.